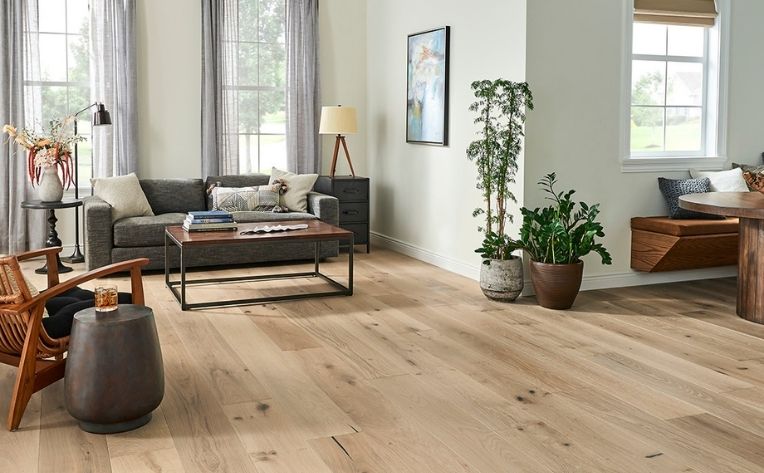 Choosing the right floor for your home is an important decision. Not only does it set the tone for the whole interior of your home, but it's also the foundation for everything else you put in a room. Your choice should fit the look of your home and the way your family lives.

Each family is unique and will have different demands and expectations for their flooring choice. A large family with kids will have a different set of needs than a retired couple. Pet owners will have a particular requirement as well. Allergy and asthma sufferers will need to keep a clean and dust-free environment.

When making a decision about flooring, keep in mind such factors as design options, comfort, warmth, safety, and maintenance. And don't forget you can have fun with colour too.

Carpet
Carpet is the right choice for light traffic households; the warm and comfortable feel makes it ideal for bedrooms and family rooms. Carpet is an attractive addition to a room and the colour choices are virtually unlimited. It is, however, high maintenance—regular vacuuming and shampooing are mandatory, and stains are a constant worry. (Price installed: $18 - $30 per yard)

Hardwood Floors
The look of brand-new hardwood floors, or even newly refinished hardwood floors, adds an unmistakable quality and value to your home. Wood flooring can add elegance to any room and works well with most kinds of décor. However, they are sensitive to climate changes and also susceptible to water damage, and need constant maintenance. Hardwood floors can also be quite cool in the wintertime.

Another alternative to hardwood flooring is the new generation of products, known as Engineered Hardwood Flooring. This type of wood has been developed to make more efficient use of wood that takes substantially less hardwood to cover the same area as with a block of solid wood. Therefore, it saves you money and allows you to enjoy the new floor knowing that you have selected a product that is environmentally friendly.
Hardwood floors are ideal for halls, living, and dining rooms, and you can easily use area rugs on top to compliments your decor. (Price installed: $10 - $17 per square foot)
Ceramic or Porcelain Tiles
Ceramic tile can give your home that "designer look". Tiles are available in many evolving designs that can create an incredible floor and suit everyone's tastes.
Because of their easy-to-clean water resistance nature, ceramic tiles are the best choice for kitchens and bathrooms. However, make sure you select non-slip tiles. (Price installed: $12 - $30 per square foot)

Vinyl Floors
An inexpensive choice in flooring, the new generation of Vinyl Floors are made durable and can add a real "designer's touch" to your home. They are available in tiles and sheets, Double-thick vinyl is ideal for damp areas like bathrooms.
Vinyl floors are vulnerable to scratches, tears, stains, and wear. (Price installed: $13 - $30 per yard)

Laminate Floors
The floating nature makes Laminate Floors quite simple to install, and the range of styles and colors is virtually endless—from simulated wood and tile to creative and decorative choices that will provide any home with an amazingly durable and beautiful floor.

Laminate flooring is easy to care for which makes it suitable for high-traffic areas. (Price installed: $9 - $15 per square foot)

Many people are now choosing a combination of wood flooring, laminate, oak, and carpet in their homes to enhance the beauty of the flooring and of course their homes. However, style and comfort is in the eye of the beholder and you are the one that will ultimately be enjoying the flooring you choose. Choose a combination of flooring options that fits your own style and needs so you can be happy with your choice later on.