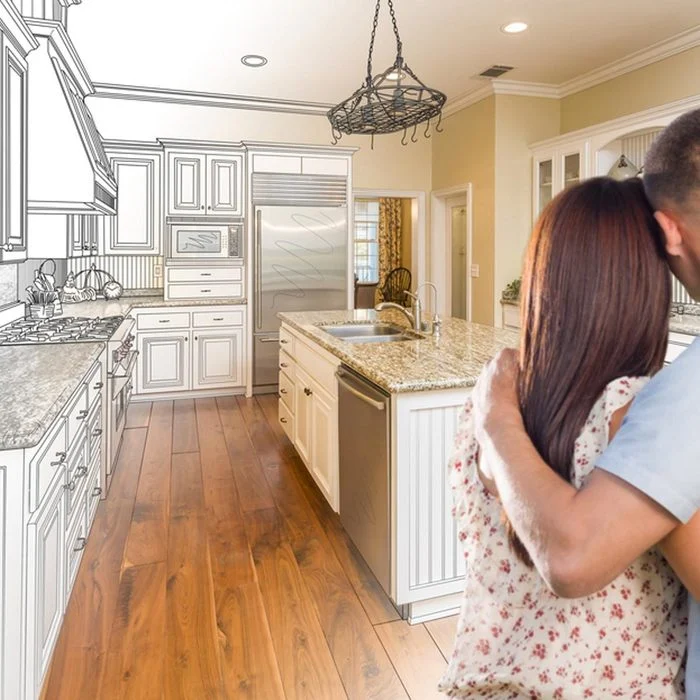 When it comes to preparing your home for sale, some home sellers make it their objective to get the most return on their homes. Before starting any home improvement, you should evaluate the return on investment (ROI). Ask yourself what renovations will boost the resale value of the house.
Here are a few renovation ideas that pay off.
1. Floors
Replacing dated, scuffed floors can give your house a new sheen and make small spaces seem larger. Flooring can generate a payback as high as 75% on investment. If you have carpet in the family, dining, and living rooms, it is recommended to change to hardwood and/or tiles. Not only will it make your home more elegant, but you will also enjoy the benefits of a healthier indoor environment, with fewer allergens.
According to the Appraisal Institute of Canada, the ROI on floor upgrades ranges from 50% to 75%. That means if you spend $5,000 redoing your floors, you can expect to recoup anywhere from $2,500 to $3,800 of your costs. If you're a handy person, you can save yourself a few hundred dollars by installing the floors yourself.
2. Interior and exterior paint
Painting is an inexpensive and very profitable renovation project. Rolling on a new interior or exterior paint colour can generate a 50% to 100% return on investment. If you are planning on selling your house, choose neutral shades over trendy colours that may not appeal to all buyers.
3. Kitchen
Instead of spending a bundle gutting this essential room, think smaller. Counters, sinks, plumbing and lighting fixtures, and appliances can change their look and cost far less than a major renovation. From an investment standpoint, the kitchen may be the best place to sink your money: Kitchen facelifts pay back about 80% of their cost.
Granite is the standard high-end finish for kitchen counters, but high-end synthetic stone materials look just as good, wear better, and cost about the same. Installing a granite or solid-surface counter, along with a stainless-steel sink and faucet, will probably run $5,000 to $8,000.
Your contractor might suggest that, while you're replacing the counter, get a new backsplash, too. Save your money, as backsplashes don't get the wear and tear counters do, and can add $2,000 or more to the cost of your modest upgrade.
3. Bathrooms
You can expect to recapture about 75% of the cost of a minor bathroom remodel. Most bathtubs already have showers built in, so the plumbing infrastructure is likely there. Replace a dated, rarely-used tub with a spacious shower and multiple showerheads. Similarly, adding a decent-sized shower to a half-bath makes it a whole bath — and much more marketable.
You can purchase a big "rainfall" showerhead for about $200, or spring for a fancier handheld showerhead and other gadgets for $500 and up. Don't bother building a niche into the shower wall to hold shampoo bottles and such (typical cost: about $300).
4. Closets
Large and organized closets are a big draw for prospective buyers, though it's impossible to put an exact payback percentage on them. Fitting a walk-in master closet with drawers, shelves, shoe racks, hooks and poles can cost $500 to $2,500 or more, depending on the quality of the materials and the complexity of the design. Wood is the most expensive material, but typically delivers the best return on investment.
This is a job where it's easy to overspend. So decide exactly what you want and need before you either buy the supplies or bring in a professional closet organizer, who will charge $50 to $150 an hour. Make sure you square reality with the many options: Will you really sort your socks into separate drawer dividers?
5. Energy Upgrades
Real estate agents say energy-saving amenities make a house more attractive to buyers. New windows, for example, return 77% of the project cost, according to Remodeling Cost vs. Value Report. But there's another good reason to upgrade now; you can, in some cases, let the government help shoulder the cost of projects to make your house more energy efficient and more attractive to prospective buyers.
You may need to wait years to recoup some energy conservation moves. So if you're more worried about money than your carbon footprint, run the numbers to ensure you'll be there by the time the cost gets covered. When you're ready to sell, spell out your energy improvements for prospective buyers. Create a worksheet showing what you spent, plus the before-and-after utility bills.
Remember to keep receipts and careful records for all your energy-saving expenses. This will keep you square with the Canada Revenue Agency and let you prove to potential buyers that you have lowered their future energy bills.