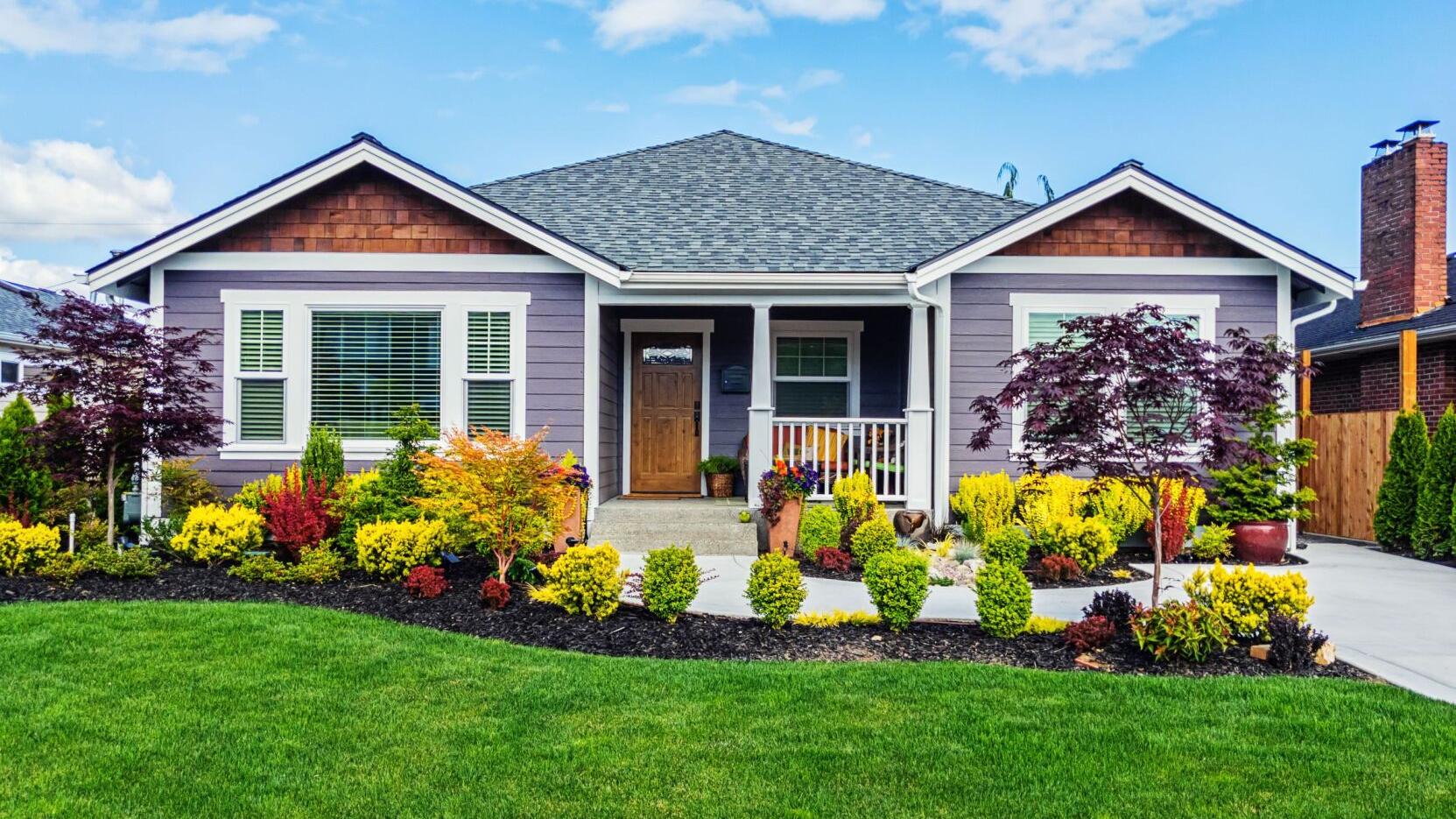 Curb appeal is a term used to describe how your home looks from the exterior and how appealing it looks when viewed from the curb. This includes areas such as the lawn, patio, front door, exterior paint, trees, shrubs, and more. In a simpler sense, curb appeal is what the buyers initially see the moment they step out of their car.
Curb appeal contributes greatly to the desirability of a home. Most real estate agents confirm that curb appeal can affect a buyer's decision to purchase a home more than the square footage or the price of the home. It often means the difference between a house sitting for months or selling in a few weeks.
If your home is not particularly attractive from the outside, there are many ways to improve the curb appeal of your home without shelling out thousands of dollars in renovations. There are dozens of small, inexpensive home improvements that you can do to your house to add instant curb appeal. Adding curb appeal to your house not only makes it easier to sell but also gives your house that nice and finished look in which you can take pride.
The following steps will help to quickly create curb appeal for your home.
1. Tidy up. Make sure you don't have old rusty junk lying around the yard unless it is being used stylistically in a garden. Get rid of things that are just lying around. This would probably be the first step in improving the look of your lawn. Remove items such as old rope, boots, cracked pots, worn hoses, wrecked flower boxes, and other things.
2. Trim up. Cut the grass and edge the borders with a weed trimmer. Take care to get rid of all weeds, including ones by the walls and around the mailbox post. Add a layer of mulch to cover up dull areas in the landscaping or flower beds.
3. Build a healthy and green lawn. Adding some starter sod can make a big difference very quickly. Sod can be bought at lawn and garden stores and comes in rolls or squares. After you lay it across your yard, water it well and you'll immediately have a lawn, with roots taking hold within two weeks.
4. Add some colour to your yard. Planting flowers will enhance the curb appeal of your home. Buying colourful plants that have already started blooming will immediately make a difference. They can either be planted in pots or in the ground. Use your imagination and choose flowers that bloom in colours that look good with your home.
5. Paint. Giving your home (trim and shutters too) a new coat of paint easily breathes new life into its appearance. However, make sure you select a colour palette that matches the architectural style of your home. For example, if you live in a historic home, you'll want to stick to an authentic palette.
6. Update your front door. Greet guests in style with an eye-catching front door that makes a statement. You can find exterior doors in a variety of materials from traditional wood to sturdy steel. The key is to select a door that suits your home's architectural style. If your current door is in good condition, you can make it stand out by painting it a bold colour or adding windows, sidelights, mouldings, and more.
7. Illuminate paths and walkways with outdoor lighting. Install lighting fixtures that will complement the style of your home as well as help to create dramatic effects. Use fixtures with built-in motion detectors to enhance safety.
8. Add decorative accents. Top your exterior off with finishing flourishes such as trendy new house numbers that are clearly visible from the street. And while you're at it, why not add a new mailbox? Or frame windows with new shutters?
9. Dress up your front porch or entry. Make sure you have an inviting place for potential buyers to sit and admire the landscaping. Even a small space has room for a chair or bench and a round table, or a stool to place a drink on. An outdoor accessory or two is fine, but keep it simple and uncluttered.
Keep in mind that simplicity is the key to creating curb appeal. A few flower beds that border and define walkways, curbs, and lawn areas and a few flower pots next to the home are often enough.
Remember: Breaking projects up into small, manageable chunks —as your time and budget allow—is the best way to go, because even just a few design tweaks can make a big impact on your home's curb appeal.