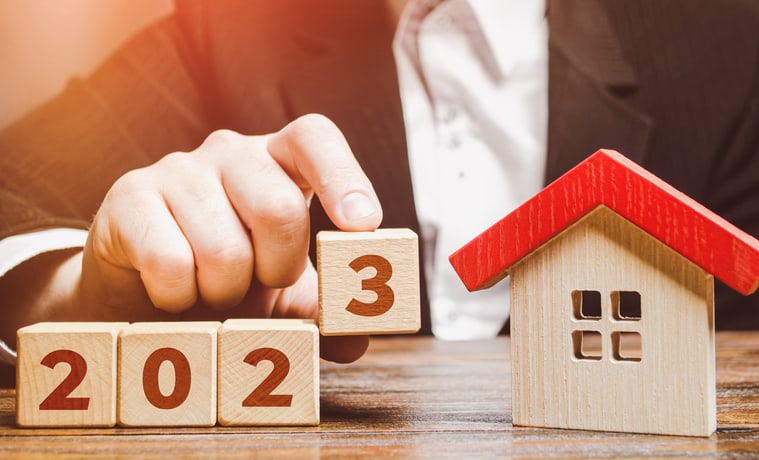 Real estate markets are set to normalize in 2023 after nearly three years of the pandemic boom. Sales volume has already started slowing and a turnaround is NOT expected until the second half of next year.
What a difference a year makes! At the beginning of 2022, real estate markets all over the world were up against huge demand, limited supply, and high prices. Looking toward 2023, the landscape has changed dramatically since central banks began raising interest rates last spring.
Although home prices are falling and homes are lingering on the market, many in the industry look at the shift as more of a normalization than a correction. Sales activity and price growth from March 2020 to March 2022 was too hot not to cool down.
The process has already started. Global house-price growth for luxury properties—the top 5% of the market—slowed to 8.8% per year in the third quarter, down from 10.9% at their peak at the start of 2022, according to latest reports. But when accounting for inflation house prices are actually now declining by 0.3% year-on-year, the report said.
The Canadian Real Estate Association (CREA) benchmark price of a home in Ontario — a measure that combines sale prices of condominiums, attached and detached houses across all markets in the province — peaked at $1.08 million in March of 2022.
That was a staggering 64% leap in just two years, from the start of the COVID-19 pandemic.
CREA's benchmark figure for Ontario has since fallen by nearly 20%, but even that sharp decline only takes prices back to the level they were at in September of 2021.
How much lower will home prices in Canada go? With the number of homes bought and sold monthly now lower than it's been per capita since the mid-1990s, when will the real estate market start to pick up again?
We surveyed real estate experts and analyzed published forecasts to give you this preview of the Ontario housing market for 2023.
Overall, real estate analysts generally expect home prices to continue to fall, but not a lot further than they already have. We expect home prices to continue to decline through early 2023 but bottom out in the second half of the year.
Higher interest rates have been the biggest factor dampening demand. However, employment levels remain strong and immigration numbers are expected to rise, fuelling demand for housing.


Some Condo projects could be cancelled
There are also signs that the recently rapid pace of new home construction is slowing. The Canada Mortgage and Housing Corp. (CMHC) recently warned that in the Greater Toronto Area, the combination of a sharp drop in condo pre-construction sales, higher building costs, and higher interest rates could lead to project cancellations or delays in project launches.
Volume of listings expected to remain low
Real estate analysts believe the volume of listings will remain low for some time to come, as many property owners are reluctant to list their properties given how the prices dropped.
Also, the continued rising interest rates are affecting the buyers' ability to qualify for the mortgage amount they need which will have its toll on the number of sales.
When will prices bottom out?
The latest available data from the Canadian Real Estate Association (CREA) shows that, on a seasonally adjusted basis, home prices in Canada fell 19% from the peak in February to November, when the average sale price was $636,838.
With the slowing pace of decline in both home sales and prices, there are early signs the correction is approaching its final stage.
Prices could eventually hit a low point in the early part of 2023 but the timing would vary from market to market. this bottoming out would coincide with the Bank of Canada stabilizing its benchmark interest rate — the central bank signalled in December it could be near the end of its hiking cycle — and that for those looking to break into the market, this might be where affordability is best in the year for prospective buyers.