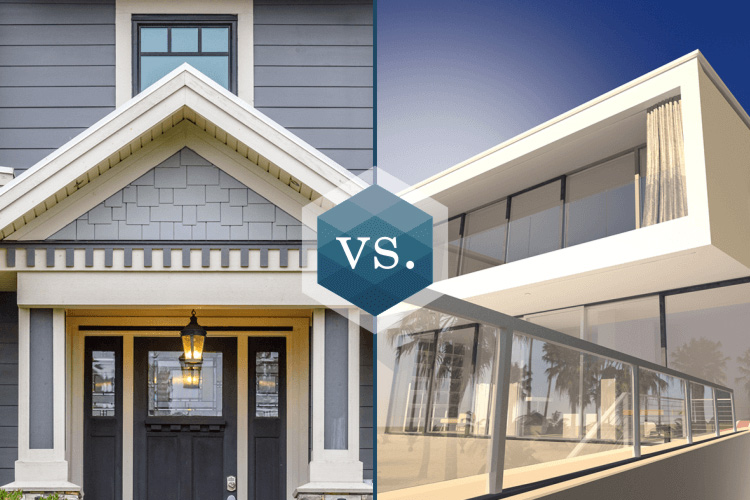 When trying to decide whether to buy an older home or a newly constructed one, many questions come to mind. Start by educating yourself and knowing the pros and cons of each.
In most cases, existing homes have a touch of character with their own charm and details. They are usually located in more established neighbourhoods with mature trees and desirable landscaping and maybe closer to city services such as schools, libraries, hospitals, shopping centres, and public transportation.
Older homes may have better quality materials and workmanship that are too costly for newer homes and may come with window coverings and appliances which are often included with the home. If you are lucky, you may still get an updated kitchen and bathrooms if the home has been renovated.
However, existing homes are generally less energy-efficient and are typically more costly to heat and cool. They may need updating and require expensive repairs, and sometimes it may be difficult to find or match older building materials.
Newer homes usually have bigger rooms, more built-in wardrobes and closets, and more bathrooms. If you are building a new home you can also influence the layout and the finishes within the home as part of the negotiations with the builder or developer.
Whereas with an existing home you will inherit what the previous owner built or remodelled over time. Very rarely will an existing home be built and finished exactly to your liking. Think about how much renovating you'll need to do to an existing home. If you can buy an existing home that's been totally renovated in a great neighbourhood within a good school district this might be a better choice than moving into a newer neighbourhood with an un-established school district.
On the other side, buying a newly-built home tends to cost more than an existing home, unless you buy outside of the city, where land is cheaper. Of course, you will have to consider the price of gas to get to your job.
And it isn't just about getting to your job. You'll also want to think about how long it will take to get to a grocery store, dry cleaners, your kids' school, your house of worship and other places you get to by car.
While new homes are more expensive, they might also increase in value faster than an existing home. That said, it may be challenging to buy a new home in your neighbourhood of choice, unless you buy a vacant lot, hire a developer and build your own home which can get quite costly.
However, with new homes, you get warranties and guarantees on appliances that come with the new home. Dangerous building materials, such as lead and asbestos, will likely not be a problem. A new home will meet modern safety and building codes and usually use building materials that offer improved insulation, thereby reducing your heating bill.
You may be able to upgrade or customize such features as floor coverings or paint colours and sometimes the floor plan. New homes often have more closets and storage space and most importantly don't require as much maintenance.
New homes though have their own disadvantages. Higher taxes could be required to bring water, gas or electrical services to a still under-populated area. Resale could be difficult if the entire neighbourhood is not yet complete, and you may have to cope with construction noise, dust, and mud. New neighbourhoods frequently lack the relaxing appearance of mature trees, and your new subdivision may require costly landscaping.
You can make the case for and against buying either a new home or a "used" home. It's great to live in a brand new home, but there's nothing like the feel of an established neighbourhood. The bottom line is: Don't buy someone else's problems unless you can tackle the solutions.
Find a house you like, consider its pros and cons — objectively, as well as emotionally — and think about the compromises you're willing to make. The more logically you approach buying the house, the more you're going to love living in it.